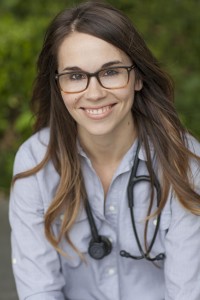 The bridging of ancient wisdom and modern science led Dr. Asbill to study Naturopathy. She completed her medical education at Southwest College of Naturopathic Medicine in Tempe, AZ in 2013. Prior to her life in medicine she worked in the film industry as a producer for print, film, and special effects. With a degree in photography and a love for the creative side of life, she found a natural transition into the art of medicine. Compelled by a love of nature and the outdoors, she is very happy to have found her home in Bend.
Dr. Asbill commits herself to the care of each and every one of her patients. Her approach to family medicine is based on compassion, critical thinking, and individuality. She has a passion for pediatric care and enjoys helping children grow up strong, physically and emotionally, and ready to take on life. Her practice does not stop at pediatric care but extends to the entire family and includes treatment for many chronic and acute conditions, especially women's health concerns. Women are often the core of the household and, as it goes, stretched too thin. Dr. Asbill believes when care is given to address their health and well being the benefits can be seen throughout the family.
Outside of her daily practice, Dr. Asbill's desire to help the underserved and disaster victims has led her to such places as the Philippines, Puerto Rico, and Mexico, where she has worked with non-profit groups including Naturopaths Without Borders and Mercy in Action. She is a licensed Naturopathic Physician in Oregon and a current member of the American Association of Naturopathic Physicians and the Oregon Association of Naturopathic Physicians. In the past, she served on the board for the Texas Association of Naturopathic Doctors.
In addition to providing a full spectrum of holistic primary care services, Dr Asbill is also a trained CranioSacral Therapy provider.  Click here to learn more.
"My two-year-old son started having night terrors several times a week. Sometimes, he would wake up crying and scared but was able to return to sleep quickly. But other times, he would stay awake for hours afterward. It was really disruptive to his sleep – and ours as well. We tried all kinds of different things to stop the problem, from special stuffed animals that would keep away bad dreams to diffusing essential oils at night, but nothing was working. After several months of this, I spoke with Dr. Asbill about it. She recommended a homeopathic remedy, which we took every night before bedtime. Within the first few days, the night terrors slowed a great deal. Within two weeks, they were completely gone. It was truly amazing, and I felt so very thankful that Dr. Asbill was able to help my boy – and did it with a drug-free, affordable solution. After a few months with no night terrors, we stopped the remedy and the night terrors never returned.

"
"When my son was 12 years old he was experiencing anxiety due to social pressures, separation anxiety when I was away from him, and fears that something would happen to me. He was also not handling his anger and frustration appropriately. Through discussions with Dr. Asbill and via homeopathic remedies, my son began to handle his anxiety and behavior much better.  His anxiety dissipated and he navigated changing his core social group very well. He has also found more appropriate ways to handle his anger and frustrations. I am thankful for the time Dr. Asbill spent with my son and for her wisdom and guidance.  I am comforted to know that I can call on her in the future. I am also comforted that I have taught my son that there can be a natural approach to emotional and physical health."
"Following an unforeseen emergency visit I was diagnosed with anxiety. As a healthy 40 year old man it was difficult to define this as an actual diagnosis. I attempted to visit my PCP and found myself taking prescription medications that made me feel uncomfortable. I didn't want to live life depending on strong medications. I got in contact with Dr. Calley Asbill and immediately knew I was headed towards a better quality of life. In addition to my anxiety, I also received treatment for painful varicose veins. The course of treatment was comfortable and extremely effective. Dr. Asbill is tentative to my concerns and provides exceptional care. I would feel confident calling Dr. Asbill for every aspect of healthy living."
"I wanted to share how beneficial Dr. Asbill's services have been to me. My MD tried several different traditional medications to bring my blood pressure under control, but the medications had negative side effects.  Basically I felt worse even with my BP under control. When she suggested that I could keep my BP under control without medication, I was all ears.  She made it clear I would need to follow her instructions exactly, in order to accomplish the goal of no more medications.  4 months after beginning the treatment plan, my BP was well within the normal range without medication. Over a year later it's still in the normal range with no medication. I can't thank her enough for the guidance and education she has provided to help me be healthier."
"Where do I start…I first came to Dr. Asbill after experiencing some trauma and not in a good place.  I was seeking a doctor that would take the time to listen and explore what was causing some of the issues / symptoms I had.  I knew immediately from the first visit that I found something special in Dr. Asbill. It was not the typical 10-15 minutes with my PCP but an extensive and probing examination.  It was so refreshing and comforting to have someone to listen and provide in depth explanations to ensure I understood and felt comfortable with the diagnosis and treatment plan.  I could tell she genuinely cares for her patients.  Although she is no longer in Texas (which saddened me greatly…when was the last time you cried over your doctor) Dr. Asbill still provides the same high quality and personalized care.  I believe God places people in our lives at the right time…Dr. Asbill is one of them for which I am gratefu
"I am a 53 year old wife, mother and grandmother of 10.  Dr. Calley Asbill is the Naturopathic Doctor currently treating me. I began seeing her in May of 2015, it is now February 12, 2016. Dr. Asbill has patiently and consistently worked with me regarding many health issues.  I came to her after a lifetime of questions regarding my health and new questions of why modern pharmaceuticals and physicians couldn't help me.  Some of the medical issues I deal with are FSH Muscular Dystrophy, Celiac disease, degenerative disc disease, bone spurs, muscle wasting, severe allergies and rashes, fatigue, pain,weakness, raynauds syndrome, periphial neuropathy and more.I have lived with a hyperactive immune system all of my life. I was born into a very large family and we were quite neglected and suffered some abuse.  My body and spirit learned the fight or flight response and in turn I believe this has become a lifelong response within my body, mind and spirit.Begining the naturopathic path with Dr. Asbill has completely changed my life for the better. She identified food allergy triggers, areas where my body was lacking in nutrients and ways to treat the whole system. I am learning a more peaceful response and approach. I have normal digestion for the first time in my life. I am slowly losing weight following Dr. Asbill's suggestions on nutrition, suppliments, paying attention to when and how I eat and symptoms that follow.  My hair is even thicker and healthy for the first time in my life. I no longer feel like I am starving. My body is feeling so much better in EVERY area.I highly recommend Dr. Calley Asbill as a caring, educated, attentive, effective and insightful doctor.  If only others could understand getting to the root of our bodies disturbances rather than the way modern medicine just treats the symptoms where as Naturopathic medicine goes to the root and finds the cause.Thank you is so lacking in what I truly feel.  But Thank You Dr. Calley Asbill for changing my life forever and bringing healing to my heart, mind, body and soul."
Adult Intake_Calley Asbill, ND
Pediatric Intake_Calley Asbill, ND