CLASS IS FULL! Thank YOU!!
7-week Course, Begins September 29th – November 10th, 2:30-3:30 pm, $129 for entire series- no drop-ins or monthly rates 
 Call our office at 541-330-0334 to register and secure your spot
Nei Yang Gong, a method of Wu Dang Qigong, harmonizes the energetic connection between the Liver and Kidneys. The Liver stores the blood and governs the emotions, while the Kidneys store  the body's essence.  There is an interrelationship between the two organ functions, as the blood transforms into essence and the essence gives rise to blood.
With this theory in mind, the harmonious connection serves to purify and calm the Heart.  Then , the Kidney system can be more easily strengthened,  producing balanced emotions, restful sleep, and increased immunity.
Nei Yang Gong also nourishes the Spleen and Stomach Qi strengthening the digestive system and preventing the accumulation of damp heat, that may produce headaches, migraines, depression and stress.
This practical, yet powerful qigong method addresses digestive diseases and diabetes as well as elevated cholesterol levels, emotional imbalances, fatigue and insomnia, while strengthening the tendons and sinews.
This fall season, join me, as we prepare our hearts and kidneys for the long winter to come.  As always, we will incorporate some short meditation and self massage into our weekly practice.
I look forward to sharing this journey with you!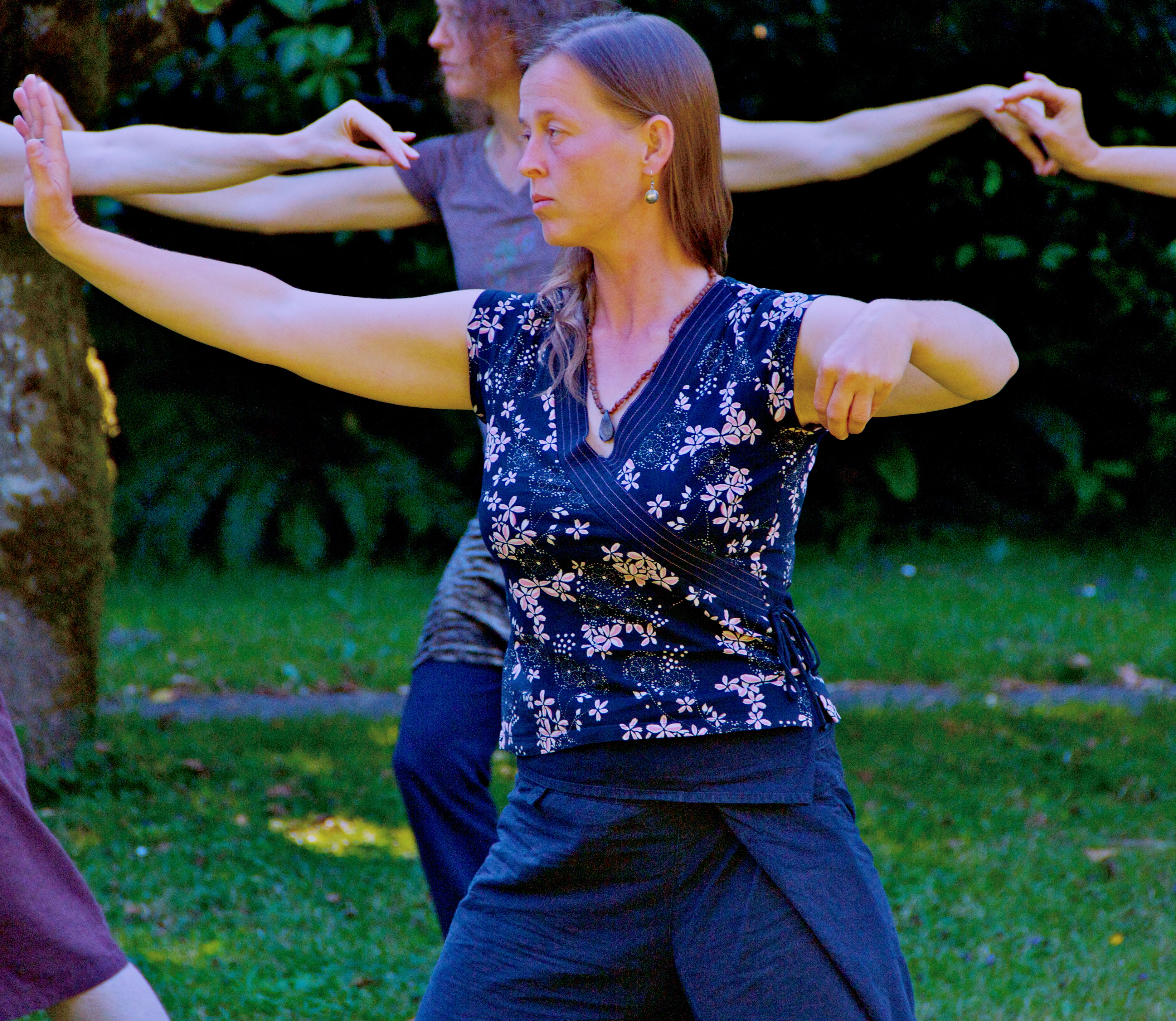 Kellie Chambers, L.Ac., MAOM, Dipl.Ac., Owner and Operator of MoonTree Medicine, LLC and an independent contractor at Hawthorn Healing Arts Center in Bend, Oregon, has studied Chinese Medicine for over a decade. She applies her passion for healing with ancient Eastern practices, in order to better serve her community. As a Licensed Acupuncturist focusing in Classical and Taoist approaches to health and balance, Kellie utilizes several modalities including Acupuncture, Asian Bodywork, Chinese Nutritional and Herbal Medicine, Qigong Therapies, Cupping, Gua sha, Moxa, Sound therapy and Essential Oils in her treatment sessions. She is also one of the acupuncturists who offer her expertise at Hawthorn's weekly Community Acupuncture sessions.
Kellie's love of plants and nature led her to a B.S. in Botany and Plant Pathology at Oregon State University. But it was her awareness of Qi (and several Aikido injuries) that led her to earn a Master of Acupuncture and Oriental Medicine at the Oregon College of Oriental Medicine in Portland, Oregon.  Kellie went on to train with Dr. "flying needle" Wong, in her post graduate study at the NanJing International College of Traditional Chinese Medicine in NanJing, China. She passionately passes along her knowledge of this ancient tradition of practice to the next generation of Healers as a professor for the Central Oregon Community College Massage program, as well as teaching Cupping and Gua Sha Workshops (through Cupping Dynamix, LLC) all over the greater Northwest Region to Acupuncturists, Physical Therapist, Nurses, Massage Therapists, and many more, wishing to add some Eastern wisdom to their varied approaches to healing.
Kellie has been studying meditation in many forms for the past 13 years. She is a Ling Gui Certified Master Healing QiGong Instructor and continues as a student of Taoist medicine with the Ling Gui International Healing School of Qigong.  In addition to treating patients, Kellie offers weekly QiGong classes and in-depth weekend workshops on a seasonal basis. She adds to her qigong healing instruction with a background in Aikido and Zen style Meditation as well as a 200 hour yoga teacher certification, specializing in Yin yoga.