Gua sha (Chinese: 刮痧; pinyin: guā shā), meaning "scraping sha", is a traditional Chinese medical treatment in which the skin is scraped to alleviate fluid stagnation and produce light sha, blood brought to the surface. Practitioners believe gua sha releases unhealthy elements from injured areas and stimulates blood flow and healing.
 The class will be taught by locals, Kellie Chambers, L.Ac, and Jamie Kruse, LMT.  The class is valued at 6 CEU's for LMT's, but is not just for licensed therapists.  In China today, Gua Sha is practiced not just in medical clinics and hospitals, but also as an extremely valuable home remedy, and something that is included in everyone's first aid tool kit.  
Learning Gua Sha can be an invaluable addition to your skill set, as it is a relatively quick, and highly effective way to relieve pain and improve range of motion for many types of musculoskeletal issues, including injury, surgical recovery, scar tissue therapy, and athletic recovery and endurance improvements.  Through this ancient scaping technique, you can remove waste build up in the subcutaneous layers of tissue, through extravasation, while simultaneously opening the pores for relief of qi stagnation, wind, cold, heat and dampness.  Difficult and stubborn areas of the body that are not responding to typical modes of treatment are good candidates for this kind of treatment process, especially those areas that don't receive good blood profusion.  Gua Sha can make a huge difference in patient outcomes, in a very short amount of time.  This modality, just like Cupping, is quickly becoming the standard of practice for adjunct therapist.
I hope you will Join us!   We look forward to having you in class.
Cost is $129 for the day and will include 6 hours of CEU's, a handout, and take home Gua Sha tool.
To sign-up for the workshop please fill out the form here. You will be sent a confirmation email from Cupping Dynamix once we receive your registration request.
About the Facilitators: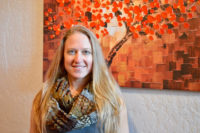 Jamie Kruse, LMT, is passionate about helping athletes by focusing on loosening the muscles with long strokes combined with targeted specific pressure customized by your needs. She loves working on athletes for pre/post event to get them feeling their best! Jamie also is available for Gua Sha or Cupping treatments that can stand alone or be added to your Sports or Thai Massage appointment to provide specific therapy to injuries.
Thai Yoga Massage by Jamie Kruse helps increase range of motion, joint mobility, flexibility, circulation, and recovery. This type of treatment is done on mats fully clothed on the floor where Jamie utilizes her entire body to promote a deeper treatment session (usually 90 or 120 minutes long).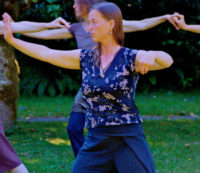 Kellie Chambers, LAc, is owner and Operator of MoonTree Medicine, LLC and an independent contractor at Hawthorn Healing Arts Center in Bend, Oregon, has studied Chinese Medicine for over a decade. She applies her passion for healing with ancient Eastern practices, in order to better serve her community. As a Licensed Acupuncturist focusing in Classical and Taoist approaches to health and balance, Kellie utilizes several modalities including Acupuncture, Asian Bodywork, Chinese Nutritional and Herbal Medicine, Qigong Therapies, Cupping, Gua sha, Moxa, Sound therapy and Essential Oils in her treatment sessions. She is also one of the acupuncturists who offer her expertise at Hawthorn's weekly Community Acupuncture sessions.
Kellie's love of plants and nature led her to a B.S. in Botany and Plant Pathology at Oregon State University. But it was her awareness of Qi (and several Aikido injuries) that led her to earn a Master of Acupuncture and Oriental Medicine at the Oregon College of Oriental Medicine in Portland, Oregon.  Kellie went on to train with Dr. "flying needle" Wong, in her post graduate study at the NanJing International College of Traditional Chinese Medicine in NanJing, China. She passionately passes along her knowledge of this ancient tradition of practice to the next generation of Healers as a professor for the Central Oregon Community College Massage program, as well as teaching Cupping and Gua Sha Workshops (through Cupping Dynamix, LLC) all over the greater Northwest Region to Acupuncturists, Physical Therapist, Nurses, Massage Therapists, and many more, wishing to add some Eastern wisdom to their varied approaches to healing.
Kellie has been studying meditation in many forms for the past 13 years. She is a Ling Gui Certified Master Healing QiGong Instructor and continues as a student of Taoist medicine with the Ling Gui International Healing School of Qigong.  In addition to treating patients, Kellie offers weekly QiGong classes and in-depth weekend workshops on a seasonal basis. She adds to her qigong healing instruction with a background in Aikido and Zen style Meditation as well as a 200 hour yoga teacher certification, specializing in Yin yoga.