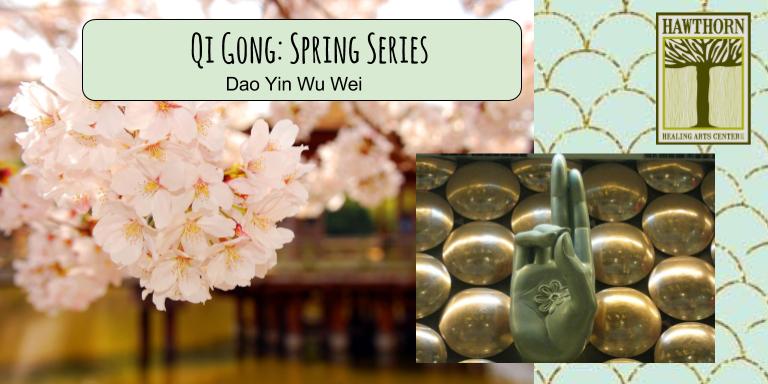 The Spring Qigong Series will be focusing on harmonizing the seasonal elements!  Part of our process will be breathing out the old and stagnant accumulations of our organ systems and breathing in the new possibilities that Spring season brings to all life.  We will also delve into alignment and posture as well as the balancing of yin and yang and nourish our qi in preparation for the summer ahead.  We have 2 forms to guide our practice gracefully though this season's challenges.
Dao Yin Wu Wei – This standing form, akin to Tai Ji, is particularly beneficial for the elderly and chronically injured.  The goal is to bring the yin and yang energies into balance, stabilize emotions and bring health and regeneration to the joints.  It's a great form for the Spring season!
In the spring term, we will focus on taking care of our joints by moving from our center, becoming more flexible in mind and body, and harmonizing with the flow of qi in the universe. 
Self Massage – With Qi Gong, we may "become our own doctors".  Qi Gong self massage brings your own healing energy intentionally into your body, through its energetic pathways.  It may be performed on its own or in conjunction with any of the other qigong forms.  The special Liu Dong Method of Qi Gong Self Massage is a simple yet precise method to release blockages and strengthen the energy.
Join us for another season of transformation and harmonization, through the powerful practice of Qigong.
Tuesdays, 6:30-8pm, April 30th-June 4th, $149 for series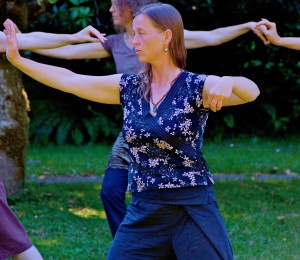 Kellie Chambers, L.Ac., MAOM, Dipl.Ac., Owner and Operator of MoonTree Medicine, LLC and an independent contractor at Hawthorn Healing Arts Center in Bend, Oregon, has studied Chinese Medicine for over a decade. She applies her passion for healing with ancient Eastern practices, in order to better serve her community. As a Licensed Acupuncturist focusing in Classical and Taoist approaches to health and balance, Kellie utilizes several modalities including Acupuncture, Asian Bodywork, Chinese Nutritional and Herbal Medicine, Qigong Therapies, Cupping, Gua sha, Moxa, Sound therapy and Essential Oils in her treatment sessions. She is also one of the acupuncturists who offer her expertise at Hawthorn's weekly Community Acupuncture sessions.
Kellie's love of plants and nature led her to a B.S. in Botany and Plant Pathology at Oregon State University. But it was her awareness of Qi (and several Aikido injuries) that led her to earn a Master of Acupuncture and Oriental Medicine at the Oregon College of Oriental Medicine in Portland, Oregon.  Kellie went on to train with Dr. "flying needle" Wong, in her post graduate study at the NanJing International College of Traditional Chinese Medicine in NanJing, China. She passionately passes along her knowledge of this ancient tradition of practice to the next generation of Healers as a professor for the Central Oregon Community College Massage program, as well as teaching Cupping and Gua Sha Workshops (through Cupping Dynamix, LLC) all over the greater Northwest Region to Acupuncturists, Physical Therapist, Nurses, Massage Therapists, and many more, wishing to add some Eastern wisdom to their varied approaches to healing.
Kellie has been studying meditation in many forms for the past 13 years. She is a Ling Gui Certified Master Healing QiGong Instructor and continues as a student of Taoist medicine with the Ling Gui International Healing School of Qigong.  In addition to treating patients, Kellie offers weekly QiGong classes and in-depth weekend workshops on a seasonal basis. She adds to her qigong healing instruction with a background in Aikido and Zen style Meditation as well as a 200 hour yoga teacher certification, specializing in Yin yoga.