Heart of Crane Qigong – This amazing qigong form works to open the heart and guide the emotions to a place of joy.  The foundation of the practice is in the rhythm, the beating of the heart, the sound of the drum.  It has a fluidity of movement like that of a dancing Crane, moving to its own heartbeat.  We focus on bringing the emotions back into harmony, and letting go of that which lays heavy on the heart.  This practice opens the way to allow more Joy to flow into your life, while negative thoughts and emotions leave your system.  The first part works in your consciousness.  The Heart and Spirit harmonize through the movements of the Crane.  Our bodies, as the bird, become light and reinforced energy.  The second part works in the unconscious.  Movements are expressed spontaneously and provide a state similar to that encountered in Chinese Hypnosis.  This is when blockages rise (Yu) and then the liver can regulate the functions of drainage and dispersion.  This method of developing the original source qi gives us the power to cure disease and increases longevity and vitality.  Heart of the Crane qigong is particularly beneficial in cases of depressive syndromes, mood disorders, and/or insomnia.
1,000 Hands Buddha – This sitting form focuses on breath-work and hand mudras for calming the mind and settling emotions.  This practice will help you discover your innate noble heart, eliminate fear and suffering in your daily life and find true happiness.  This superior method is inspired by the symbolic position of Buddha's fingers, referred to as "mudras".  It will produce calm and prevent the heart from "galloping away", leading the practitioner to a state of silence and peace.  This practice removes suffering, fortifies energy, calms the heart and helps the spirit attain wisdom.  It will also help fight stress and improve the memory.
Fridays at 2:30-3:45, 1/19- 3/16- $149 for entire series-call our office at 541-330-0334 to reserve your spot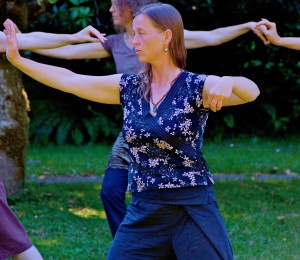 Kellie Chambers, L.Ac., MAOM, Dipl.Ac., Owner and Operator of MoonTree Medicine, LLC and an independent contractor at Hawthorn Healing Arts Center in Bend, Oregon, has studied Chinese Medicine for over a decade. She applies her passion for healing with ancient Eastern practices, in order to better serve her community. As a Licensed Acupuncturist focusing in Classical and Taoist approaches to health and balance, Kellie utilizes several modalities including Acupuncture, Asian Bodywork, Chinese Nutritional and Herbal Medicine, Qigong Therapies, Cupping, Gua sha, Moxa, Sound therapy and Essential Oils in her treatment sessions. She is also one of the acupuncturists who offer her expertise at Hawthorn's weekly Community Acupuncture sessions.
Kellie's love of plants and nature led her to a B.S. in Botany and Plant Pathology at Oregon State University. But it was her awareness of Qi (and several Aikido injuries) that led her to earn a Master of Acupuncture and Oriental Medicine at the Oregon College of Oriental Medicine in Portland, Oregon.  Kellie went on to train with Dr. "flying needle" Wong, in her post graduate study at the NanJing International College of Traditional Chinese Medicine in NanJing, China. She passionately passes along her knowledge of this ancient tradition of practice to the next generation of Healers as a professor for the Central Oregon Community College Massage program, as well as teaching Cupping and Gua Sha Workshops (through Cupping Dynamix, LLC) all over the greater Northwest Region to Acupuncturists, Physical Therapist, Nurses, Massage Therapists, and many more, wishing to add some Eastern wisdom to their varied approaches to healing.
Kellie has been studying meditation in many forms for the past 13 years. She is a Ling Gui Certified Master Healing QiGong Instructor and continues as a student of Taoist medicine with the Ling Gui International Healing School of Qigong.  In addition to treating patients, Kellie offers weekly QiGong classes and in-depth weekend workshops on a seasonal basis. She adds to her qigong healing instruction with a background in Aikido and Zen style Meditation as well as a 200 hour yoga teacher certification, specializing in Yin yoga.